See the article in FORBES MAGAZINE at http://www.forbes.com/sites/insertcoin/2012/01/12/if-facebook-wont-stop-sopa-we-can-do-it-for-them/. The Electronic Frontier Foundation has another article here https://www.eff.org/issues/coica-internet-censorship-and-copyright-bill. PC Tech has an article here http://www.pcauthority.com.au/News/287204,white-house-raises-doubts-over-sopa.aspx. US President Obama commented "we will not support legislation that reduces freedom of expression, increases cybersecurity risk, or undermines the dynamic, innovative global Internet." His full missive can be read here http://www.whitehouse.gov/blog/2012/01/14/obama-administration-responds-we-people-petitions-sopa-and-online-piracy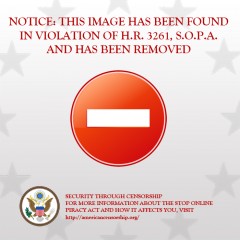 If SOPA passes, this can be done without your knowledge. You don't need to do anything wrong. You don't need to have any pirated material on your web site. You won't be told it is happening. You will not have any recourse unless you can afford to sue gigantic corporations for long periods of time.
ALL THAT IS NECESSARY IS THAT SOMEONE DISLIKE YOU ENOUGH TO SAY "THERE MIGHT BE SOME COPYRIGHTED MATERIAL ON THEIR WEB SITE".
No due process. No penalty for lying about you. Complete and total nullification of the US Constitution Ammendment #1 on Freedom of the Press and freedom of expression. You will not be informed. There is no requirement to show in particular what material infringes. And there is no penalty for your false accuser.