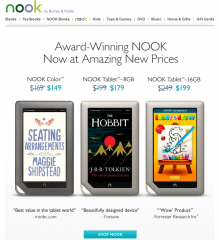 I have said for some time the primary and secondary price points for the glut of tablets that will become available this fall will be $149 and $249 with a distant tertiary point at $400. Here is another manufacturer who is adjusting their SRP to become salable. There is nothing wrong with the Nook Color: it is a fine tablet with snappy performance, can easily and intuitively store and use files (such as Microsoft Office files) from your PC, and has a pleasant form factor and passable battery life. The only thing the Nook is really missing is a good way to take notes on it, as there is no real app for that. You can also boot the Nook from a version of Android if you wish to load any of a number of boot images from CyanogenMod, using the Micro SD slot.
The only thing really wrong is that you cannot go to the most common market places unless you boot to Android and add Goggle Apps: the Amazon and Google Markets. This was a stupid blunder on the part of B&N, even through they told me it was Amazon who forbade them to allow their customers to shop also on Amazon. Seriously, guys, is Amazon.com so stupid that they don't want people to buy from them just because they own a B&N Nook?
At ant rate, B&N is promoting the device at the primary market point now — $149. Google.com is promoting their Nexus 7 you can buy it for $199.  Let's see what happens to the main contender in this price market, the Amazon Kindle ($199 – 40% = $120).