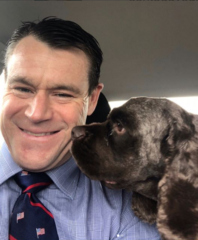 This in email today from Sen. Todd Young, Indiana.
Drain the Swamp
On Thursday, I introduced the DRAIN Act that requires federal agencies to relocate their headquarters outside of Washington, D.C. and closer to the communities they serve throughout the United States.  By relocating these agencies to smaller and less costly cities, not only will this legislation help our federal government become more efficient, it will help create new investment and opportunities in areas of the country that are struggling to compete economically.
Strengthen Oversight of VA Health Care
It's unacceptable that VA health care, such a critical component of the U.S. Department of Veterans Affairs mission, remains beset by problems, delays, and failure to address pressing deficiencies. That's why Senator Amy Klobuchar and I introduced a bill on Thursday to strengthen Congressional oversight and ensure that this Department addresses the issues identified by the U.S. Government Accountability Office.