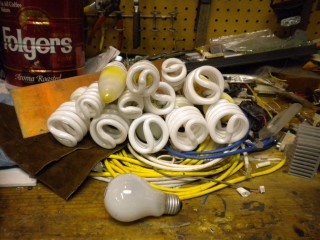 "political correctness" – the conscious and deliberate ignorance of clear dangers to our communities and nation to appease irrational and abusive minority political influences.
Examples –
Demand that folded florescent light bulbs be legislated to replace all incandescent light bulbs "to save energy and the environment" even though folded florescent "CFL" bulbs use more energy to produce and use than incandescent, create a very serious health hazard in residential applications, and create a huge environmental problem for disposal.
Demand that old American citizens restricted to wheel chairs be strip searched as as if they are probably terrorists while 20-year old Muslim "women" (or men, you can't tell) whose identity are concealed from head to toe in a Hajib are exempt from any search "due to religious reasons" and can carry any weapons they wish, unhindered and unchallenged, onto the same airline.
Demand that Republican politicians that are removing corruption, poverty, unemployment, and security threats be defrauded of their God-given individual liberties guaranteed by the US Constitution, witch hunt "investigations" be created and prolonged over fabricated lies to encumber their good work, while Democrats known to have committed and known to be currently engaging in multiple and extreme crimes against America and all humankind cannot be challenged for their many murders, treasons, human trafficking (kidnapping and enslaving) children to sexually abuse them, and massive financial criminal activities.
There are many more examples available, but you get the idea.