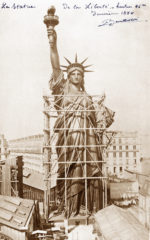 At the deepest levels, the real difference between Conservatives and Socialist Liberals is the concept of Individual Liberty. The people who formed the United States were fed up with Europe and it's Socialist system: they wanted a place where government served the people, not owned them!
They rejected the concept of royalty and nobles and peons, and wrote "We Hold These truths to be Self Evident" meaning that any honest and rational person would have to agree with the statements to follow:
"that All Men Are CREATED EQUAL, that they are endowed BY THEIR CREATOR with certain UNALIENABLE RIGHTS" God exists, did the creating, and these rights come from God, not human government, and as such human government lacks any power or authority to limit of restrict any of these absolute, God-given, human rights:
"that among these rights are Life, Liberty, and the Pursuit of Happiness".
The concept of INDIVIDUAL Liberty – an absolute right to and responsibility for self determination for each individual human – is fundamental to American Law, and opposite of Socialist law as socialism teaches the people have no rights except those the royalty decides to grant and may retract at any time. In American thinking each individual is absolutely sovereign and limited only by the mandate that they not deny any other human the same right of absolute sovereignty.
This is why Socialists are constantly demanding other people's rights be denied: it is what the old serfs did to get what they wanted from the royals. This is also why Americans reject this philosophy: when you ask someone else to grant you special rights you are admitting that person is greater than yourself: otherwise you would have no need of their consent: American citizens are not European subjects and as such they are sovereign in and of themselves and need not ask government for any thing.