This just in via email from Oak Partners, Inc.   You can visit their web site at http://www.oakpartners.com/
For the week, the S&P 500 gained 1.86%, the Dow added 1.61%, and the NASDAQ increased 2.34%.[2] MSCI EAFE stocks also increased, posting a 1.42% weekly gain.[3]
While the results may not seem especially dramatic, the path to get there certainly was. On Thursday, January 3, domestic stocks plunged, as factory data and a tech warning spooked investors.[4] Then, the next day, the S&P 500, Dow, and NASDAQ each gained at least 3.3%.[5] Friday's performance marked one of the largest rallies since the beginning of this bull market.[6]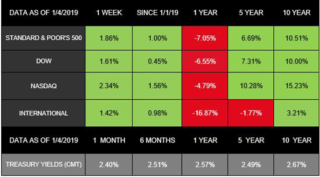 What drove the market rally?
Two key events contributed to the huge jumps on Friday: 1) the latest labor report and 2) comments from the Federal Reserve Chairman.[7]
1. December's labor report exceeded projections.
Many people expected that the economy would add around 176,000 jobs last month. Instead, the latest data revealed that the increase was actually 312,000 new jobs in December – drastically beating expectations.[8] Not only did last month's labor report show more jobs added than anticipated, but wage growth and labor market participation also increased.[9]
Why does this data matter?
Investors have been very concerned that economic growth is slowing. This data helped quell worries that a recession is ahead.[10]
2. The Fed shared new policy perspectives.
Fed Chair Jerome Powell told the American Economic Association that the Federal Reserve understands the market's worries and hasn't predetermined its future interest rate hikes.[11]
Why does this update matter?
Some of the uneasiness the markets have shown recently are a result of concerns that the Fed is tightening monetary policy too quickly. Powell's comments indicate the Fed is sensitive to economic conditions, an update that many investors wanted to hear.[12]
---
[1] www.bloomberg.com/news/articles/2019-01-04/all-the-days-are-big-days-for-stocks-as-bulls-bears-trade-blows?srnd=premium
[2] http://performance.morningstar.com/Performance/index-c/performance-return.action?t=SPX®ion=usa&culture=en-US
http://performance.morningstar.com/Performance/index-c/performance-return.action?t=%21DJI®ion=usa&culture=en-US
http://performance.morningstar.com/Performance/index-c/performance-return.action?t=@CCO
[3] www.msci.com/end-of-day-data-search
[4] www.bloomberg.com/news/articles/2019-01-03/asia-stocks-to-track-u-s-losses-on-growth-worries-markets-wrap?srnd=markets-vp
[5] https://www.cnbc.com/2019/01/04/stock-market-investors-react-to-us-china-trade-talks.html
[6] www.bloomberg.com/news/articles/2019-01-03/asia-stocks-to-track-u-s-losses-on-growth-worries-markets-wrap?srnd=markets-vp
[7] www.cnbc.com/2019/01/04/stock-market-investors-react-to-us-china-trade-talks.html
[8] www.cnbc.com/2019/01/04/stock-market-investors-react-to-us-china-trade-talks.html
[9] www.bloomberg.com/news/articles/2019-01-03/asia-stocks-to-track-u-s-losses-on-growth-worries-markets-wrap?srnd=markets-vp
[10] www.bloomberg.com/news/articles/2019-01-03/asia-stocks-to-track-u-s-losses-on-growth-worries-markets-wrap?srnd=markets-vp
[11] www.reuters.com/article/us-usa-stocks/wall-st-rebounds-on-robust-jobs-report-dovish-powell-remarks-idUSKCN1OY154
[12] www.cnbc.com/2019/01/04/stock-market-investors-react-to-us-china-trade-talks.html
[13] www.bloomberg.com/news/articles/2019-01-03/asia-stocks-to-track-u-s-losses-on-growth-worries-markets-wrap?srnd=markets-vp
[14] www.reuters.com/article/us-usa-stocks/wall-st-rebounds-on-robust-jobs-report-dovish-powell-remarks-idUSKCN1OY154