The Spring 2019 feature update is available now. feature updates are different than cumulative updates in that they happen twice a year (March and September), are larger, and contain changes to the Windows 10 functionality rather than just software fixes. The update may require about an hour to download and install in a typical situation.
If your Windows 10 PC does not automatically start this update, noted as a FEATURE update instead of the usual CUMULATIVE update, then you can force it yourself by browsing to https://www.microsoft.com/en-us/software-download/windows10 on the Microsoft web site.
This will show you a big blue button Update Now which you click. Follow the prompts (2-3 clicks) and come back later. This feature update will need more time than cumulative updates to download and install.
The most obvious (end user) change that I noticed is that Cortana and Search are now two separate symbols on the task bar by the Windows Menu.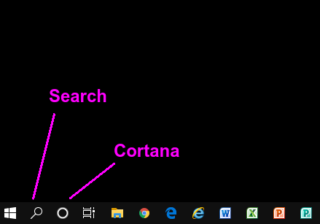 There are also a few changes to the Update & Security page. Click the Windows menu, then the Settings gear, then Update & Security. You can now pause updates. For a nice presentation of the new features there is a slide show available under Explore New Features.
The new content (pro version) can be found at https://docs.microsoft.com/en-us/windows/whats-new/whats-new-windows-10-version-1903, and https://techcommunity.microsoft.com/t5/Windows-IT-Pro-Blog/What-s-new-for-IT-pros-in-Windows-10-version-1903/ba-p/622024. The general page with Microsoft links to changes by version is at https://docs.microsoft.com/en-us/windows/whats-new/ and the general sales page with features for consumers (end users) is at https://www.microsoft.com/en-us/windows/features.
The Windows Console Team has also added some new features, such as the ability to access Linux files. You can read the official documents at https://devblogs.microsoft.com/commandline/whats-new-for-wsl-in-windows-10-version-1903/.
The best way to get started with this feature is to open your Linux files in File Explorer! To do this, open your favorite distro, make sure your current folder is your Linux home directory, and type in:

explorer.exe

This will open a File Explorer window, showing the files located inside of your Linux distro's filesystem… From here you can access whatever Linux files you would like, just like you would any other file through File explorer. This includes operations such as: dragging files back and forth to other locations, copy and paste, and even interesting scenarios like using the context menu to open VSCode in a WSL directory!
Remember that Windows 10 has been able to run OpenSSH for some time now, allowing us to shell into Windows 10 and shell out from Windows 10.