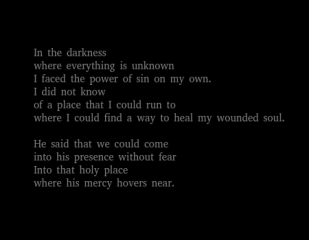 In the darkness, where everything is unknown, I faced the power of sin on my own.
Darkness, the polar opposite of brightness, is understood as a lack of illumination or an absence of visible light. Human vision is unable to distinguish color in conditions of either high brightness or high darkness. In conditions with insufficient light levels, color perception ranges from achromatic to ultimately black. Wikipedia
Darkness is not the opposite of light. Darkness is the absence of light. Cold is not the opposite of warn, cold is the absence of heat.  Hate, self loathing, envy, greed, condemnation, violence, pride, and so many other attributes of religions of error, comes from the absence of the Love of God. And without that Love, our ability to see clearly and function is greatly impeded.
5 This then is the message which we have heard of him, and declare unto you, that God is light, and in him is no darkness at all. 6 If we say that we have fellowship with him, and walk in darkness, we lie, and do not the truth: 7 But if we walk in the light, as he is in the light, we have fellowship one with another, and the blood of Jesus Christ his Son cleanseth us from all sin. 1 John 1:1-7
Herein is love, not that we loved God, but that he loved us, and sent his Son to be the propitiation for our sins. 1 John 4:10
It is not the rites and ceremonies of religions that satisfy our most intimate needs, nor do those empower us to help others and win souls. All the religiousness in the world cannot deliver one Muslim from slavery to the hate, poverty, and violence that defines Islam. All the intelligence and Christian philosophy in the world cannot deliver one from the philosophies of the Eastern religions – I have never seen anyone argued into heaven.
Only the love of God can deliver, and it is transferred to us by the Spirit of God during our time spent in communion with him.
The Holy of Holies is where we put aside everything else and commune with God, where we simply give our undivided attention and love him back as he loves us. By his death Jesus the Messiah opened the way to have personal fellowship with God, and signified it by ripping the thick veil that separated the Ark of the Covenant and the Mercy Seat from the court around it. (Catch the 11 March 2020 – Asst. Pastor T. Marsh – "Praying Through The Tabernacle – Lesson 7 and Lesson 8" https://www.facebook.com/fupcokinawa/videos/1041178086265941/)
Beloved, if God so loved us, we ought also to love one another. 1 John 4:11
The world is covered in darkness: religions or knowledge or ceremonies cannot fill the emptiness inside us or anyone else. The thing that saves people is the love of God. What we need is the Love of God. We cannot not shed it abroad (Rom 5:5) unless we have it ourselves first.
This message is for saints and not-so-saints. For frustrated people who are ready to quit trying because they always seem to fail somehow. This is the Word Jesus sent to me when I struggled with that and asked what I should do.
Jesus just said "I paid for it all. Just keep trying."
God does not require us to be perfect – he knows we will fail. He took care of that on Calvary. He made provision for us, he paid for all our sins, and all he asks is "Just keep trying."
Don't give up on yourself or God. Don't stare backwards at where you have plowed and see how crooked the lines are. Just keep trying.
May God's Peace and Blessing be with you this week.