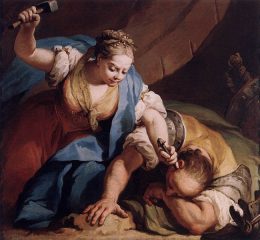 If no man will obey his calling then God will use a woman. Men, when you are called, just do it, or don't complain when God gets it done without you.
(6) And she sent and called Barak the son of Abinoam out of Kedeshnaphtali, and said unto him, Hath not the LORD God of Israel commanded, saying, Go and draw toward mount Tabor, and take with thee ten thousand men of the children of Naphtali and of the children of Zebulun? (8) And Barak said unto her, If thou wilt go with me, then I will go: but if thou wilt not go with me, then I will not go. (9) And she said, I will surely go with thee: notwithstanding the journey that thou takest shall not be for thine honour; for the LORD shall sell Sisera into the hand of a woman. And Deborah arose, and went with Barak to Kedesh.
(18) And Jael went out to meet Sisera, and said unto him, Turn in, my lord, turn in to me; fear not… (21) Then Jael Heber's wife took a nail of the tent, and took an hammer in her hand, and went softly unto him, and smote the nail into his temples, and fastened it into the ground: for he was fast asleep and weary. So he died.
(22) And, behold, as Barak pursued Sisera, Jael came out to meet him, and said unto him, Come, and I will show thee the man whom thou seekest. And when he came into her tent, behold, Sisera lay dead, and the nail was in his temples. Judges Chapter 4 
The "Song of Deborah" (Judg. 5:24-26) recounts:
Extolled above women be Jael,
Extolled above women in the tent.
He asked for water, she gave him milk;
She brought him cream in a lordly dish.
She stretched forth her hand to the nail,
Her right hand to the workman's hammer,
And she smote Sisera; she crushed his head,
She crashed through and transfixed his temples.
Scholars[6] have long recognized that the Song of Deborah, on the basis of linguistic evidence (archaic biblical Hebrew), is one of the oldest parts of the Bible, dating back to the 12th century BC.[7]